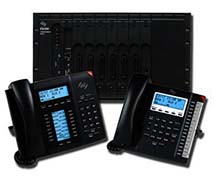 If your business is looking to purchase a business phone system then look no further. Data-Tel Services, Inc. has been installing phone systems since 2003. Data-Tel Services Inc. understands that selecting the correct phone system for your business' communications can be an overwhelming task.
We bring over 40 years of telecommunications industry knowledge when assisting our clients in choosing the perfect phone system for their business. While keeping in mind not only your current business phone systems needs but also assuring your new business phone system can expand and with your growing demands.
With all the new technologies such as digital telephone systems, hybrid phone systems, VoIP phone system, IP PBX, Hosted PBX, IP Phone Systems, SIP phones and SIP Trunking, you may ask what business communications platform does our company need?
Data-Tel Services approaches each client with their individual needs in mind and doesn't believe in a one size fits all communications phone system solution. With our years of experience we will consult with your key individuals and assist them in designing a complete  business telephone system solution, keeping your current needs and future growth in mind.
Call us today for a quote on phone systems or click the link below to get a phone system quote.  713-785-0996.
What types of Phone Systems are available?
Some of the more popular are: Digital Phone Systems, Hybrid Phone Systems, VoIP Phone Systems, IP PBX's, Hosted PBX's and SIP.
What type of Business Telephone System is the right fit for our business?
Because of all the choices mentioned above and all the different type of phone service like (analog lines, T-1′s, PRI's, SIP Trunks and VoIP) Data-Tel Services, Inc. would like to visit with your firm to discuss your current  and future communications needs. We strongly suggest in setting up an onsite evaluation and a live phone system demo.
Can Data-Tel service our current phone equipment, repair our phones or move our existing phone system?
Absolutely, repairing and servicing phones is a big part of our business and we would be more than happy to assist with any telephone projects.